WHAT MAKES OUR FOOD SO SPECIAL

CAT'S LOVE is committed to providing only high-quality food for cats, of which we know what is in it and how the individual raw materials are produced. We are convinced that we can deliver the best quality using regional ingredients. For us, high-quality nutrition is the basis for a long and healthy cat life. Your beloved cat not only tastes it, but feels it. For optimal care, we work together with veterinarians and nutrition experts in our product development.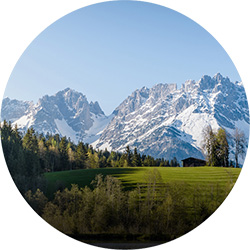 LOCAL INGREDIENTS
We know where our raw materials come from and are confident that this makes for the highest quality feed possible. modification in accordance with the Austrian Food Act, ingredients from the most organic sources possible are put into plates and bowls.
CONTINUED DEVELOPMENT
INSTEAD OF STANDING STILL
When we develop new products such as dry foods or snacks, we work closely with nutritional experts and veterinarians. So not only the quality, but also the size and texture are exactly right.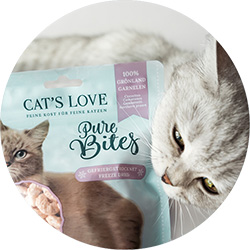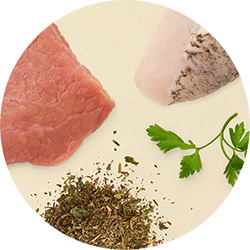 CONSCIOUSLY DO
WITHOUT
We don't need any added sugar, grains or colourings - and neither does your cat. That's why we can say with a clear conscience that only the highest quality ingredients go into our products to ensure your cat's well-being.
THE BEST FOR EVERY
STAGE OF LIFE
No matter if it is a kitten or an adult cat: We offer your cat the highest quality of food at every stage of its life and development - regardless of whether your cat prefers to eat dry or wet food. High protein content, important additives and valuable oils characterise each morsel.